Fancy a massage?
The Harrogate International Nursery Fair Seminar Programme (sponsored by Nursery Online) is now finalised with a great line up of speakers. This all takes place in Hall M – and each talk is free to attend, simply turn up on the day. Full details can be found HERE.
Once again, whilst the show offers great business opportunities – and lots of special offers; it's also about networking and fun too. For example, The RHSM Group (Stand M14) which represents brands such as Breathable Baby and Little Chick London is offering visitors not only a complementary glass of bubbly, but a free foot massage too! Just the thing after walking the busy trade show floors.
In addition, don't miss free drinks and canapés in the Royal Hall of the International Centre (just off the entrance to Hall A) at 5.30pm straight after the show on Tuesday 28th March – sponsored once again by Progressive Preschool magazine.
Don't forget to pre-register to attend the show at www.nurseryfair.com
Space-saver bedding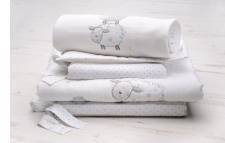 This year Silvercloud will be showcasing a new addition to its Counting Sheep collection – a four piece bedding set, designed to fit a space-saving cot. The set comprises a coverlet, bumper, fleece blanket and fitted sheet, all suitable for use from birth. It's been carefully designed to fit a standard or space-saving sized cot, such as the East Coast Carolina. There's lots more to see, including two dreamy new bedding ranges with hoodless Moses baskets.
Visit East Coast Nursery on Stand A22
Toys for development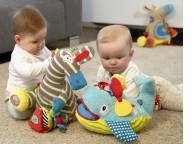 Dolce Toys will be exhibiting for the first time, and starting from the essence of fun, observation, touch and education, every one of its products has been designed and manufactured using the highest quality fabrics and materials. The company also believes that the child benefits enormously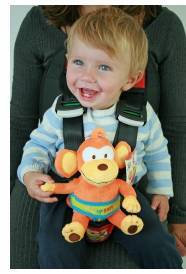 through interaction with parents and carers. Its characters are fun and timeless! Dolce = Develop, Observe, Learn, Create and Educate!
Visit Dolce Toys on Stand C7
Safe travels
Belt Up Baby allows baby to travel safely on the parent's lap whilst travelling in public transport such as taxis. The restraint is light, very portable and easy to use. It has been designed to provide busy, responsible parents with a safe alternative to travelling with an unrestrained infant on their lap. Extensively tested by leading child safety centre in the UK – TRL using the same crash conditions applied to approved child car seats, the results clearly show that Belt Up Baby can save lives of children who might otherwise travel unrestrained on parents' laps.
Visit Belt Up Baby on Stand B1
Supreme rang of prams
After its successful debut in 2015, Supreme Baby returns to Harrogate to continue the good work. This year, the company is concentrating on its exclusive brands and also launching a new line of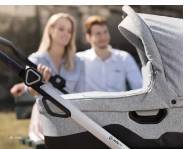 DaVos prams and Jedo Trim which are not to be missed. Jedo with over 40 years of pram manufacturing experience, appointed Supreme Baby as its exclusive UK distributor and exhibiting at Harrogate is a wonderful way to catch up with buyers face to face and show them these fabulous new lines.
Visit Supreme Baby on Stand C90.