Full speed ahead to Harrogate

Hauck confirms return: With a successful Kind+Jugend now firmly under its belt, the UK's nursery industry is concentrating on the next important annual trade event with bookings for Harrogate International Nursery Fair in March 2019 steadily flowing in.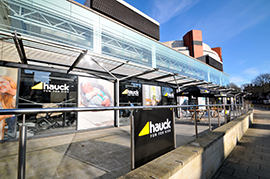 Last year, the show enjoyed a refreshed layout utilising new halls of the Harrogate Convention Centre and, because of this, almost all of the major names there this time have rebooked their positions again.
Hauck has confirmed its unique outside facing stand position in the Kings Suite and Hall G is already almost sold out. Favourite companies returning to this hall include BabyStyle, Bebecar, Cuddles Collection, Obaby, Red Kite and Rosy Fuentes to name just a few.
Hall Q welcomes the return of Cheeky Rascals, Peg Perego, UPPAbaby, Shnuggle, Sheldon and Slumberland; plus, new for 2019, Baby Travel UK and Unilove Baby with Mee-go. Roma Prams launched its range at Harrogate for the first time this year and has also confirmed its stand for 2019. Emma Charlesworth of the company explains: "We chose Harrogate as our first trade exhibition and were overwhelmed with support from the independent sector. We signed up for next year as we can see the value that this show offers to both exhibitors and visitors."
The New Product Showcase zone was a hugely popular fresh feature this year, giving visitors and buyers a heads-up on the best new launches at the show and helping draw attention to those who had not exhibited before. Any company wanting to gain prominent attention for innovative new products are recommended to secure a slot in this area early as spaces sold out quickly for the 2018 show.
Adrian Sneyd, show organiser, urges companies interested in participating to secure their stand space early commenting: "With last year's new layout requiring some time to set up and communicate out to everyone we are very pleased with the response so far but would now urge companies still planning to exhibit to get in touch as soon as possible so they can get the best choice of stands still available."
For more information and booking forms, visit click here or contact Adrian directly on 01902 880906 or email: adrian@nurseryfair.com