2019 information coming soon. 2018 information is shown below.
BPA 2018 BANTA shortlist announced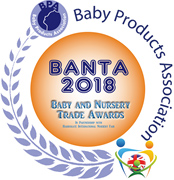 The Baby Products Association has announced the shortlist of products to make it through to the finals of its Baby and Nursery Trade Awards (BANTA) which takes place at Harrogate International Nursery Fair this weekend and early next week, sponsored by Nursery Today magazine.
Julie Milne of the Baby Products Association comments: "Although there are a smaller number of exhibitors this year, these Awards have still proven to be very popular and we are delighted with the number and quality of entries. The judges worked hard over the weekend and today selecting the entries to go through to the next round. This was based on a number of factors including consumer appeal, market need and value for money and it was difficult to reach agreement in the categories that received an avalanche of entries. All of those shortlisted will be viewed by our panel of judges first hand prior to the winners being announced at the seminar area on Sunday 25th March."
BANTA 2018 shortlist:
Travel

Company name
Product name
BabyHub UK Ltd
SleepSpace Travel Cot
BabyStyle UK Ltd
Oyster 3
Cosatto Ltd
Hubbub Britpop ISOFIX
N2M Ltd
Rockit
OBABY Ltd
ABC Design Salsa
Roma Prams
Moda
Sweet Dreamers Ltd
ewan Deluxe
Taalco Ltd
Prambibs
The Red Kite Baby Co Ltd
Push Me Sprint Travel Stroller
The Red Kite Baby Co Ltd
The Kuro
The Red Kite Baby Co Ltd
Toddler Back Pack & Reins - Lady Bird/Bumble Bee
Zellie
Woburn Adventure Bag

Nursery

Company name
Product name
Boori
Alice Cot Bed – Pebble
Little Chick London
Simply Swaddle, Easy Change
Mummy Loves Organics
Sleepy Baby Room Diffuser & Sleepy Feet Foot Oil
OBABY Ltd
Stamford Furniture Collection
The Red Kite Baby Co Ltd
The Nebula
Whisbear
E-zzy the Sloth

Home

Company name
Product name
Motherknot
Colby
Nana's Manners
Ergonomically Designed Children's Cutlery
The Daddy Bag Ltd
Sunggle Soother
The Red Kite Baby Co Ltd
Baby Go Round Play Centre
The Red Kite Baby Co Ltd
Jumparound Jungle

Best New Product

Company name
Product name
BabyStyle UK Ltd
Oyster 3
Boori
Alice Cot Bed – Pebble
Cosatto Ltd
Woosh
HushCush
4 in 1 Nursing Pillow
Little Chick London
SimplySwaddle, Tiny Baby Size
Mimos Pillow UK
Mimos Pillow
Mummy Loves Organics
Sleepy Feet Foot Oil & Sleepy Baby Room Diffuser
N2M Ltd
Rockit
Nana's Manners
Ergonomically Designed Children's Cutlery
Roma Prams
Capsule Travel Stroller
sandsliders
sandsliders
Taalco Ltd
Prambibs
The Blinky Company
Blinky
The Daddy Bag Ltd
Snuggle Soother
The Red Kite Baby Co Ltd
Push Me Sprint Travel Stroller
The Red Kite Baby Co Ltd
The Kuro
Whisbear
E-zzy the Sloth
Zellie
Woburn Adventure Bag